Pallet truck TPL30
Pallet truck TPL30 is agile and sturdy, designed to work in limited environment allowing excellent manoeuverability even at full load, thanks to its powerful motors and compact dimensions.
Capable to work over multiple shifts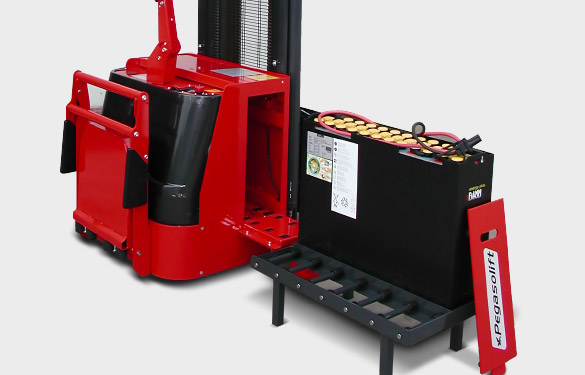 TPL30 pallet truck
A pallet truck for heavy duties

Electric pallet truck TPL30 belongs to the heavy duty Pegasolift TPL family. These machines are engineered to cover even a triple shift work load. Machines' frame with heavy structural thickness, guarantee incredible impact resistance and load stress.
TPL30 pallet truck
Less workload stress

Front wheels, with a  special configuration, allow easy insertion of the pallet to reduce fatigue and time required for loading operations.
This electric pallet truck has various types of equipable batteries (up to 315Ah Ld/Ac or Li-Ion) also with quick-change side door and rollers.
These pallet trucks' traction and lifting engines are over dimensioned and reliable and allow a long lasting working career.
Lead/Acid: 240Ah/5h, 270/5h, 315Ah/5h
GEL: 225Ah/5h, 261/5h, 285Ah/5h
Li-Ion: 100Ah/1h, 200/1h
Rubber traction wheel ring